JULY SPECIALS AND MANUFACTURER REBATES!
EVERYONE who purchases a firearm in July is automatically entered to win a
NEW CHARTER ARMS "OLD GLORY" .38SPL REVOLVER! Multiple purchases mean multiple entries!
Smith & Wesson is at it again! Cash back for M&P pistols!
(Illinois does not qualify for the gear package rebate)

Heckler & Koch – buy a full size P30 or VP pistol, get 4 extra mags!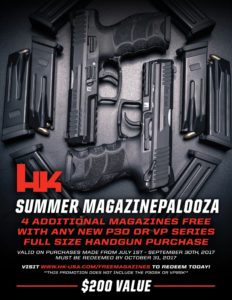 Purchase the new FN 509 – get 3 free mags!
Colt has multiple rebates on pistols, LE6920's, and Expanses!

Walther has a great promo going on too! We have PPQ's in stock and will happily order a PPS for you!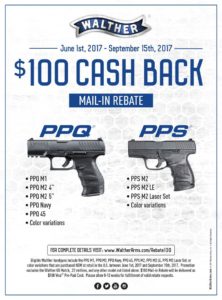 Springfield Armory recently extended their Gear Up promo through August 31st! It's a great deal!

Schrank's Smoke 'N Gun is a proud Glock Blue Label Dealer – in stock NOW!