NOVEMB-AR SALE!
10% OFF ALL IN STOCK AR-TYPE RIFLES, PARTS, AND AMMO!
PLUS—2 FREE 20 ROUND MAGPUL MAGS WITH ANY 5.56 RIFLE!
SALE EXCLUDES CONSIGNMENTS AND CLEARANCE INVENTORY.
SEE WEBSITE FOR CURRENT FIREARM INVENTORY AT SALE PRICES.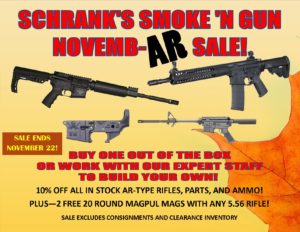 SO MANY MANUFACTURER REBATES GOING ON!
Smith & Wesson is back at it again!
Rebates on Bodyguard pistols and revolvers until December 31st!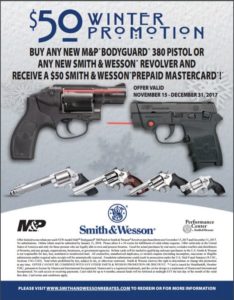 Remington is offering cash rebates on Remington handguns and Bushmaster QRC rifles!

Awesome FN rebate for a free Vortex sight with select purchases!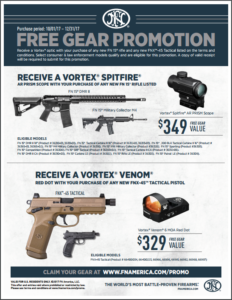 Savage Model 10 Rifles – get a $150 rebate through December 31st!
Try out the new Beretta APX and get free gear!
Schrank's Smoke 'N Gun is a proud Glock Blue Label Dealer – in stock NOW!