Schrank's Smoke 'N Gun is a full service firearm store, along with a smoke shop featuring fine cigars and pipe tobacco.  We are best known for our extensive used firearm inventory, which makes up approximately half of all in stock firearms.  We also carry a full range of ammo, including hard to find calibers, accessories, and reloading equipment.
As a family owned business, customer service is key!
Gun Experts
Our staff is made up of gun enthusiasts, with a range of experience and expertise. We are always happy to talk about firearms! From the novice to the expert, we will help you find a firearm or related product that best meets your needs.
Resources
Our staff is our number one resource!  While it is nearly impossible to know everything about all firearms, our well rounded staff members come close. After 50 years in business, we have established a wide network of industry contacts. If we don't have a product in store, we will do our best to find it for you.
Gunsmith
Our on-site gunsmith provides a full array of services – cleaning, repair, modifications. Check our gunsmith tab for rates for the most common services. Need a service that is not listed? Those are the best gunsmithing jobs!
Appraisals
We offer no charge in-store appraisals of all firearms. Is your estate too large to bring to the store? We may be able to make arrangements to come to you!
Fine Cigars
Visit the Smoke Shop for a wide selection of the world's best cigars and tobacco products.  With hundreds of options, you won't be disappointed!
OUR HISTORY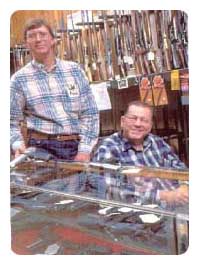 Mike Schrank's Smoke 'N Gun was founded in 1964 by Mike Schrank. What started as a small storefront in downtown Waukegan, the business moved to its current location in the late 1970's. Long time customers will remember that Mike ran the business for decades with his brother John at his side. Schrank's became well known in the area for extensive inventory, industry expertise, fair deals, and customer service – and a funny story or two.Sadly, both brothers passed away within months of each other in 2007.
Today, Joan Schrank, Mike's wife, runs the thriving business.  Along with three generations of the Schrank family, Schrank's Smoke 'N Gun is staffed by former law enforcement professionals, former and current military personnel, and lifelong gun enthusiasts. Together, this committed group continues the legacy of Mike and John by focusing on relationships with customers.
Quite simply . . . our customers come first.  We value the long relationships we have established over the years. We believe the best advertising is word of mouth, so we work hard to earn your trust.