The Drew Estate story is one of daring, heartbreak & success but, most of all, one of passion for cigars and the country of Nicaragua, where they have been making cigars since 1998.
Jonathan Drew & Marvin Samel are not your average cigar makers, their story does not start in Cuba, or with fathers in the cigar business. It started with a dream, and through their can-do spirit and never-say-die attitude made Drew Estate one of the premier cigar manufacturers on the planet. The two frat brothers from New York started out small…. Small, as in a 16 square foot retail kiosk in the World Trade Center in NYC.
La Vieja Habana
Handmade from the quality leaf left over from the manufacture of Drew Estate's premium cigar brands, the La Vieja Habana is an exceptional smoking value. This tripa mezclado cigar consistently delivers a great flavor with an excellent draw and burn. Available in three wrapper varietals: Cuban Corojo, Connecticut Shade, and Brazilian Maduro.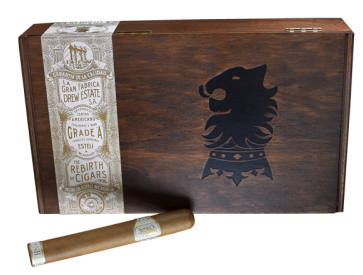 Undercrown Cigars
In early 2009 DE asked their torcedores to smoke less Liga Privada cigars because they were leaving too few to be exported. This request was met with the disappointment you would expect, but rather than being disgruntled they responded by blending their own signature liga.
Incorporating many of the same rare tobaccos, but of different vintages and primings, the cigar they created was no mere replacement. Rather it is an exceptional smoking experience of uncompromising quality and flavor that deserves to be smoked by all.