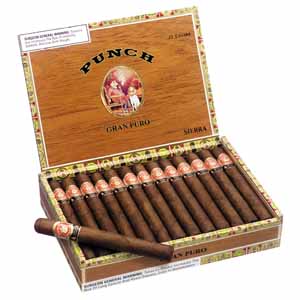 As the name suggests, Punch is a robust cigar that has history of richness in taste. The original blend offered by Punch is one of the most preferred brands by everyday cigar smokers all over the world. This brand is famous and listed in top five bands all over the world.
The foundation stone was laid in nineteen century and it has kept traditional Honduran version still alive. The company manufactures excellent full bodies to medium body?s cigars that have sweet aroma designed from smart blend of Cuban seed tobacco filler that are imported form Dominican Republic, Nicaragua, and Honduras. Wrappers that are used in most of the cigars are made of natural wrappers that are harvested in Ecuador, which have strong aroma, smoke and taste.
There are two versions known as double maduro and maduro that utilize Connecticut broadleaf wrapper for smooth taste and dark color. If you are big fan of Punch, then you've come to the right place. We offer every type of cigar that is produced by Punch Company. Punch lovers should always expect consistent quality cigars, as the production is done on good scale with excellent amount of goods stored in the company for proper aging process. The company imports raw materials from almost every country to offer earthy aromas of multi country blend that is impossible to be found in other brand of cigars. The cigars have long and pleasant finishing with hints of spices throughout the smoking. Few best brands made by the company are Arturo Fuente, Macando, and Romeo y Julieta 1875.