10.7% OFF ALL FIREARMS THAT WOULD BE BANNED
UNDER PROPOSED IL SB107!
"ASSAULT WEAPON" SALE THRU MARCH 14TH!
~ SALE PRICES ARE REFLECTED ONLINE ~

During February, purchase any black Glock 43 or Glock 26 Gen 5 –
Receive a $50 IN STORE REBATE!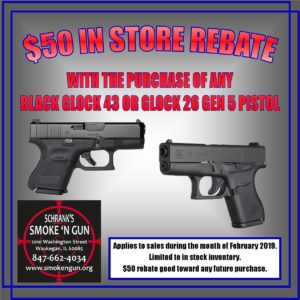 Schrank's Smoke 'N Gun is a proud Glock Blue Label Dealer – in stock NOW!