Receivers/Other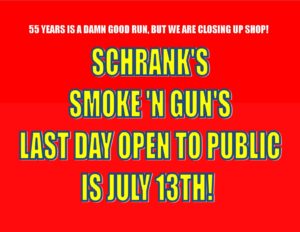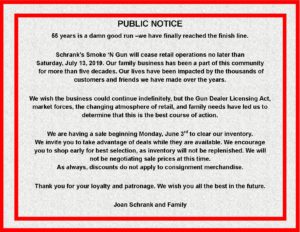 FINAL DAY! JULY 13 . . .
 ALL REMAINING FIREARMS ON SALE
~ SEE SALE PRICES ONLINE ~
25% OFF CIGARS
50% OFF AMMUNITION
75% OFF RELOADING BRASS
30% OFF OTHER RELOADING SUPPLIES
50% OFF HOLSTERS
30% OFF EVERYTHING ELSE!


Website shows current firearm inventory with sale

prices.
Note – our inventory listed online is for informational purposes.
Please feel free to call 847-662-4034, email, message us on Facebook, or drop by the shop to verify stock status and price.
No products were found matching your selection.